Amanda E.N Jojo
The Zimbabwe Energy Regulatory Authority (ZERA) has postponed the announcement of new fuel prices to a later date, a development that will see service stations maintaining prices announced in August.
According to Statutory Instrument 270 of 2019, the parastatal is required to announce new fuel prices by the fifth of every month.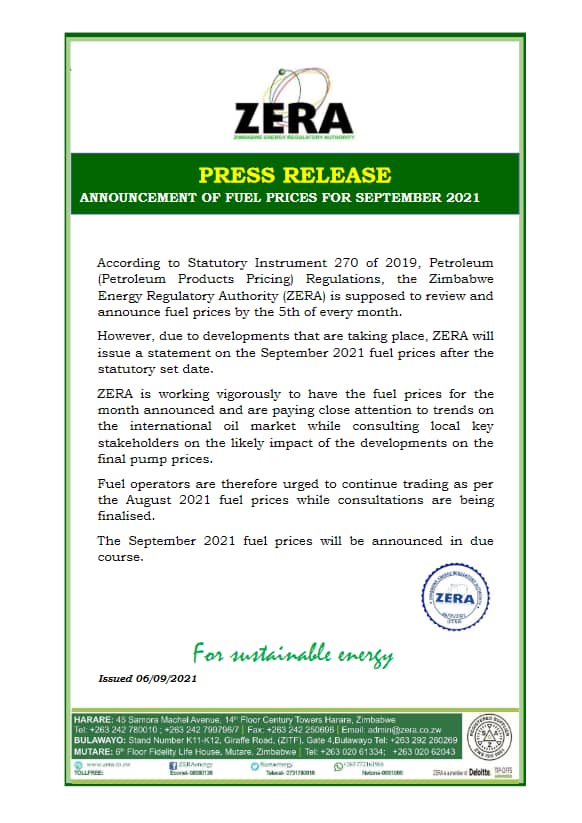 In a statement on Monday, ZERA revealed that it will delay the price reviews to monitor trends on the international oil markets while consulting local key stakeholders on the probable impact of the developments on the final price.
"However, due to developments taking place, ZERA will issue a statement on the September 2021 prices after the statutory set date," read the statement.
"Fuel operators are therefore urged to continue trading as per August 2021 fuel prices while consultations are being finalised. The September 2021 fuel prices will be announced in due course," read the statement.
Fuel prices as at August 2021 are as follows; diesel $114.29 per litre or US$1.33 whilst petrol is $111.07 per litre or US$1.37 per litre.
Since January this year, a monthly increase in the Free on Board (FOB) prices for petrol and diesel was realized and this had an effect on the pump price of fuel.